Back to School Event
I am lucky to have a super amazing awesome supportive kind professional team.
My teammates are truly incredible people - and I love that I get to work with them.
One of my fabulous teammates is Allie - aka Miss Lovie. If you haven't checked out her blog, please do so! She is major crafty - and has great projects and tutorials. Like this rocking chair redo...
Guess bloggers are participating in her back to school event - lots of craftivities and ideas!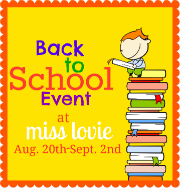 Check it out!
I'll be guest blogging too - look for my post next week!