Happy Happy New Year!
Ahhh, Christmas Break. I am enjoying the last few days of mine. I had lots of plans for the classroom, but sometimes spending time with family is much more important. :) Hope you had a fabulous holiday season and are recharged and ready for the remainder of the year with the rest of your kiddies.
Lots of things going on that I wanted to share with you.
First up: January Math Journals!
I can't tell you how much I appreciate the feedback and comments about the journals. If you download from TPT, try to leave feedback (for any freebie you download - not just mine). It is nice to read encouraging words and know that the work put into a classroom item is appreciated.
Next up: Top Teacher's Kinderland Blog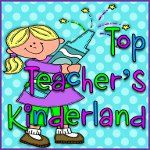 If you haven't visited, check it out! This blog is in the beginning stages,
but it will feature some AMAZING teachers posting tips, ideas and freebies.
Watch for a chance to be a guest blogger!
Pinteresting News:
Click on the pic above to follow the KinderLand Pinterest Board.
So much news! Watch for a big announcement coming in the next few weeks.
KinderLand has exciting plans that will be revealed soon (are you dying of suspense yet?!?).
To be ready, be sure to check out Google+.